Optima 6T Adapter Tray.    A money saving alternative to expensive 6T-AGM batteries!
**** Due to various state tax laws, we do not sell these items to retail consumers.   Please contact us for a distributor referral ****
 NSN: 6160-01-453-0858
The 6T Adapter tray raises the Optima battery to the same height as the military 6T type batteries (6TAGM, 6TMF, 6TL).
It also duplicates the footprint of the 6T size battery to help with spacing for battery boxes and brackets.
For use with all Optima group size 34 battery models.
Dimensions: 10.5″ long 10.0″ wide 1.91″ Height Weight: 0.0875 lbs.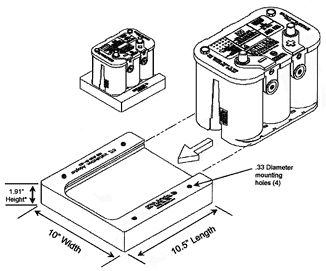 In cranking applications such as non-tactical vehicles and equipment such as generators, the OPTIMA can be used successfully in place of the larger 6T (6TAGM, 6TMF, 6TL) batteries.
These applications need dependable starting, high vibration resistance, and zero maintenance. But they don't need the large amount of reserve capacity found in the big, heavy 6T battery.  Even though the OPTIMA is similar it works great because of its lower internal resistance. Low resistance allows it to deliver high amperage with a higher, more consistent voltage to turn the starter motor faster resulting in quick, dependable engine starts.
Applications
Military vehicles and equipment utilizing the 6T battery sizes (6TAGM, 6TMF, 6TL).
This adapter lift's the OPTIMA to the same height as the 6T battery.  In many cases you can also use existing battery installation hardware.
Note:  Because the Optima is a smaller battery it is not intended to replace the larger 6T battery in applications needing long engine-off run time of accessories, i.e. "silent watch".
Use the 6T Adapter Tray with these OPTIMA Battery Models:
Engine Starting:
34/78, (formerly model 800U)
34,  (formerly model 800S)
34M, (formerly model 1000M)
High-Power Deep Cycle*
*The OPTIMA Yellow Top deep cycle batteries can also be used for engine starting applications.